Since the start of the pandemic, more and more people have been shopping online. And at the same time, they began ordering medicines, food, and cooked food with home delivery. After all, it is convenient, safe, and also saves a lot of time! The delivery apps market is developing very quickly, but it really still has room to grow. That's why in this article, we will tell you in detail how to create a delivery app. Let's consider this issue in detail!
Why Do You Need to Create a Delivery App?
Slowly but surely, many aspects of our lives are moving to the Internet. With a delivery app, you can do everything: buy a present for your mom on Mother's day, top up your mobile account, get a consultation from a psychologist, or order a new dress for a party.
Also, instead of wasting time getting ready, polishing your shoes to a shine, getting your hair done, and going to a restaurant, you can order ready-made food being at home using the delivery app. You can also order medicine with delivery when you don't want to infect others during a trip to the pharmacy, flowers for your girlfriend, or products for making lasagna.
Just imagine how wide the range of what you can get by delivery is! This fact attracts entrepreneurs in search of fresh business ideas. And when you consider that the delivery apps market is growing 300% faster than the classic restaurant business, delivery solution creation becomes an even more attractive idea. Of course, you will have to compete with such giants as UberEats, Just Eat, etc., but that's okay, the market is not yet overcrowded with big players.
If you are wondering how to create a delivery app, let's go over this issue point by point.
How to Create a Delivery App that Will Benefit You?
Let's imagine you would like to create a food delivery software (because this is the most popular niche). Your future app is the link between the hungry person and the caterer. How does it work?
1. A customer is hungry and goes to your food delivery app to choose a meal for lunch.
2. Among the various categories (Asian cuisine, fast food, healthy food, ethnic cuisine, etc.), the customer chooses Italian cuisine.
3. Then, he/she proceeds to this section to select the restaurant and dishes to order.
4. After paying for the dishes and delivery/commission, the app notifies the restaurant that there is a job for them: to make seafood pasta and lasagna.
5. When the restaurant has done the job, the courier picks up the dishes and quickly brings them to the customer's address.
6. The food is delivered still hot! The client is happy and ready to order food more often through your delivery app.
The scheme seems simple. But how to create such a delivery app so that it all works smoothly and, at the same time, generates income? This is a complicated question, but we will answer it.
How to Create a Delivery App and Make Good Money?
We can't leave out the material aspect of creating a delivery app because no matter how you look at it, businesses are created to make money.
A little fact: the revenue of the most popular delivery applications in one quarter is about $1,5 B! And their revenues are growing all the time. In 2019, their profits per quarter were still measured in the millions.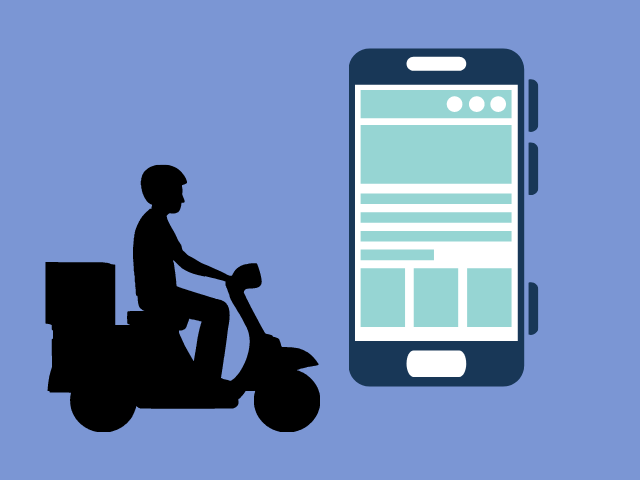 There are several ways to make money from your delivery app. Now, we're going to talk about a few of the most popular ones.
Commission in the Delivery App
Usually, delivery app owners charge a commission to the restaurants they partner with. This is a risky enough way to make money. If you own a large app and charge low commissions, then it's a viable option. But if the commission is too high, few restaurants will want to partner with you and give you a large portion of their income. This is especially true for small restaurants, which can simply run away from you.
Paid Delivery
This is a very common option for making money on the delivery app. Delivery is paid by the client, and it looks reasonable. You can set different types of delivery cost:
Depending on the distance between the cafe and the customer's home;
Fixed delivery fee from all restaurants;
Depending on the cost of the ordered food (for example, 20% of the cost of the order).
This is a very good option for earning, especially if you combine it with some other. For example, take a small commission from the restaurant for attracting new customers. This is beneficial to both you and the restaurants that don't have their own delivery but want to expand the number of customers and increase recognition. And for you, it's an additional income because application maintenance, customer service, and couriers' salaries are not small expenses.
In-app Advertising
Advertisements should always be relevant. We're not talking about showing your customers pop-up ads for baby diapers or dog food in your food delivery app. We're talking about ads for the restaurants within the app. Let's imagine there are 10 restaurants in the "Asian food" section. How do you place them in order? Which restaurant will enjoy a ray of glory in the first place, and which restaurant will be bored waiting for someone to find its menu? Bingo! The restaurant that collaborates with your delivery app will be promoted to the top of the list.
So, you promote the restaurant, it gets more attention, and you get more profit. It's such a simple scheme, but it works because it benefits both parties.
The flower delivery app should also not be advertising baby diapers. Advertise flower stores!
Free Delivery Subscription
How else can you build a delivery app to make money? Offer customers a subscription to free shipping!
This is a relatively new method that major delivery apps started to implement not so long ago. They now charge a relatively small fee (about 4-5 deliveries' cost) every month, and the customer gets the opportunity not to pay for it every time.
Users are already used to receiving various services in apps by subscription, and this innovation seems quite organic. It's not the main one but an additional option for making money on the delivery app.
And since we're giving out tips here, catch another one: if you're thinking about how to create a delivery app and make money, choose several monetization options at once. Then, you are definitely destined for success!
How to Create a Delivery App: First Steps
We know how to build a delivery app, and we are sure that to start moving in the right direction, you need to determine the important aspects such as:
Your business model;
Your TA;
Your business objective.
After that, decide on a few more aspects:
What types of monetization you choose;
What terms and conditions for restaurants you offer;
How much benefit you and the restaurants get, whether it's equal (ideally, it should be equal).
And a couple of other aspects:
What are the advantages of your delivery app over others for customers?
Will you create your own customer support team or outsource?
Will you create a staff of couriers or use an outsourced company?
Will your couriers be making deliveries on foot or using transport?
What type of transport will your couriers use?
Only when you answer all of these questions clearly and confidently, you can take the first steps in establishing your delivery app.
And your first step is to create the app, a platform on which everything will be functioning.
How to Create a Delivery App with Necessary and Useful Features
We'll mention the point that you will most likely need two applications: for Android and iOS. Also, you will have to work hard to ensure that your application can be found in both the AppStore and the Google Play Market. It makes no sense to create an application for only one operating system because then, half of your potential customers will order hot lunch or a flower bouquet on another platform. Therefore, when choosing a contractor to develop your app, pay attention to whether they have experience in creating similar apps for both operating systems. Be sure to clarify this point when communicating with representatives of the developer's company.
Next, when discussing the details of the project, discuss all the main functions of the future delivery app.
Registration Form
Don't make the registration form long and complicated. Customers won't spend half an hour registering with the app. Among the data you will need to collect should be name, email, phone number, and permission to use geolocation (additionally, you may include gender and date of birth fields). This will be enough. And the client won't spend a lot of time filling out such a form.
Catalog
The catalog of sections, restaurants/shops, and dishes/goods should be simple and convenient.
Ideally, a person selects a section, then goes straight to the list of restaurants/shops, where he or she chooses the favorite one, and goes to the menu (which should necessarily have filters and search). After all, how do you create a delivery app that doesn't have a search option? A user, who initially wants to order a beef burger, won't like to flip through the entire menu looking for that burger. Don't make him/her do that.
Reviews
Allow users to leave reviews on restaurants/shops. This way, you can see the rating and refuse to cooperate with unscrupulous partners. For example, people have written many times that they do not find the chicken in the noodles with chicken from a hypothetical Asian restaurant. So, you should stop collaborating with those who cast a shadow over the good name of your app.
Payments
Ask developers to set up as many payment options as possible. Users get used to a certain payment option and will not use the one that is not convenient for them. Some people just don't want to link their bank cards to the apps (especially the new ones). So, leave the client the right to choose to pay in cash upon receipt or with Apple Pay.
Geolocation
Have your customers consent to access geolocation while using the app. That way, they won't have to enter the address manually. But also leave the right not to consent to share the location.
It's worth noting that when in a new location, the user may not know the exact address, so ask the developers to implement the feature of selecting the place on the map. This will prove to be a useful feature.
Order Status Tracking
Almost all delivery apps offer customers to track their orders. For example, a person orders Italian pasta and gets a notification that the restaurant has already started cooking it. Then, he or she is notified that the order is ready, and the courier is on the way. This is a very convenient and necessary feature.
It's also a good idea to calculate an approximate delivery time. For example, a person can order food and goods while not yet at home and get them just in time.
Order History
Order history is an indispensable feature for your delivery app. Often, customers like to order the same pork burger or seafood pasta from their favorite restaurant. Give them the option of not having to search and choose over and over again. After all, they can simply repeat the order from history tapping their phone screen just once.
Registration Form for Couriers
For your delivery app's couriers, the check-in form shouldn't be long either.
Current orders
The couriers should always receive up-to-date information about active orders that they can start fulfilling.
Also, the courier should see the status of the order's readiness in order to pick it up on time and deliver it hot.
Withdrawal of the Money Earned
Ask the developers how to create a delivery app where the courier can see the amount of the money earned and withdraw it in a sufficient way.
Your delivery app should also be convenient for restaurant managers. The following functions are important for them:
Order management (accept to work, in progress, ready for pickup);
Withdrawal of funds.
How Much Does It Cost to Create a Delivery App?
Earlier in this article, we talked a lot about the profitability of creating a delivery app, how you can monetize it, and how much profit the big players in this market make.
But how much money do you need to invest in order to get such an app up and running? Now, we will tell you all about it!
If you order the services of developers from the U.S., on average, the cost of creating a delivery app will range from $70,000 to $100,000, including all stages of development. If you order app development from Eastern European companies or agencies from India, the final cost will be significantly lower. You can find out more about this by contacting the representatives of the selected companies.
It is important to outline the timeframe. Usually, it takes three to six months for companies to create a delivery app. All this time, the developers of the company you choose as a contractor will be actively working to provide you with the best solution.
In general, the team of 7-10 experts works to create such an app and upload it to the AppStore or Google Play Market. This way, you will be able to get the first version of the app in a short time.
Choose companies with transparent pricing, and then, it will be easier for you to calculate the approximate cost of development.
If you ask how to create a delivery app, we'll tell you that development consists of the stages described below.
UI/UX Design
Design is important. It must be clear and intuitive. In addition to all this, the design must be attractive to customers and make them come back to your app. It will take a designer from 1 to 2 months to create a catchy design. View the Top UI/UX Design Companies
Front-end development
For this, developers who know how to build a reliable delivery app most often use React Native. This helps them create an app for two operating systems at once, rather than spending extra time on it.
Backend development
This is the skeleton of your delivery app. One of the most important parts of development in general.
Testing
To make sure everything runs as smoothly and accurately as a Swiss watch, the company tests the first version of the application. Then, they go on to fine-tune it.
The project manager is the link between you and the company's experts. You can ask project managers any questions about your project, and they will be able to answer them because these professionals manage the entire process of creating the delivery app.
How to Choose the Best Contractor for Delivery App Development
The first thing you should do is to visit websites that have information about different developers from around the world. These sites most often have ratings for different areas of IT services. Choose companies that specialize in such type of development and know exactly how to build a good delivery app. Make a list of hypothetical contractors and start researching them.
Go to the companies' websites, study their portfolios, and find out whether they have worked in similar niches. Also, evaluate the reviews they publish on their site and then, compare it to the reviews on the rating sites you can find online. This step plays a significant role as companies often try to boast only positive collaborations, and you should be aware of all the pitfalls.
Then, contact the representatives of the selected agencies. This can be done through the website. Either there will be a pop-up window on the site where you can contact the representatives, or you can simply find their email address and contact this way. Tell them about your project and ask for details and project cost calculation. This is needed to understand how the company maintains contact with clients. If they don't reply for a long time or rarely, showing no particular interest in your idea, feel free to cross such a company off your list. With such a long collaboration, communication plays an important role.
Conclusion
Due to the pandemic, the delivery has become not so much a fad as a necessity. Therefore, delivery is a fast-growing and promising market that still has room for everyone.
In this article, we told you how to create a delivery application so you can compete with the big players in this market. You need to choose a niche, ways to monetize it, and approach the developers with your idea. If you start doing it right now, in six months, your application will conquer the market!
FAQ
What should I know before starting my own delivery business?
First, you need to decide on a niche, develop a business plan, and choose ways to monetize your delivery app.
How to build an UberEats-like food delivery app?
Do your research on app development companies. Contact a few on your list and ask if they can create an app with the kind of functionality UberEats has. That way, you can find the right contractor.
How much does it cost to make a food delivery app?
On average, developing a delivery app with a good design and functionality will cost you from $70,000 to $100,000. You can save money if you apply to companies in Eastern Europe or India.
How to make money on a food delivery app?
There are several ways to make money on the delivery app: collecting commissions from restaurants, subscription to the app, delivery fees, and others. It's best to combine several of them.