Best Big Data Software Development Companies: From A to Z
Experts estimate that in 2020, there were more than 51 zettabytes of data generated worldwide. In 2025, this figure will be approximately 176 zettabytes. This means that the big data market will only grow.
In economic terms, the big data market is valued at more than $40 billion (2019), and analysts predict the amount will grow at a rate of 12% during 2021-2028.
Let's take a closer look at big data development, examine what reputable big data companies there are, examine their services and solutions for businesses. We'll start with standard terms and concepts to objectively assess the situation on the market.
Introduction to Big Data
Big data has been talked about for a long time, and it's a hot topic for business owners. They talk about opportunities for companies to analyze business processes, predict the behavior of potential customers, manage production, and much more. In layman's terms, big data is a huge amount of data that brands store and collect to use for their own purposes.
Big data is processed by organizations through technology, which is also often referred to as "big data." For big data companies, the term also means hardware, systems, and software for storing and processing extremely large data sets.
What Type of Data Is Considered Big?
When talking about big data, many people wonder how large storage amounts must be to be considered big. Is a text file of 3,000 words big data? How about an Excel file with a list of 1 million lines?
Basically, everyone who's not involved in big data expert activities will say that it refers to the amount of information that cannot be kept in one's head. In principle, such a definition might seem correct. While it might be impossible to define specifically, typically big data refers to storage amounts in excesses of 1 terabyte.
In their turn, big data companies identify three main criteria as follows:
Data that is digitally recorded and stored on servers;
Data that comes in large volumes on a regular basis and accumulates quickly;
Heterogeneous data comes in at a rapid pace and is poorly structured.
Thus, information in digital format that comes regularly in large quantities that is difficult to analyze can be called big data.
Why You Need Big Data
Businesses today are increasingly turning to big data development companies to analyze incoming information more accurately. This will allow their managers to make better offers to customers based on processed data.
In addition, it helps automate work routines, optimize work processes online and in real life, make predictions, build models of any situation, identify fraudsters, and much more. Perhaps considering a few examples of big data companies implementing their solutions in business will make more sense.
Big Data in Various Industries: Examples
Manufacturing
Special systems (sensors) are often installed on equipment and on the premises for monitoring purposes. Such sensors also help model production processes and prevent malfunctions.
Processed big data also contributes to optimization, allowing you to get information on the performance of all machines, their reject rates, managers, etc. Analyzed data provides insight into when and under what circumstances defects occur, what production stages are more time-consuming, etc. Organized big data can help determine how to optimize time, accelerate production, and use less consumable materials.
Logistics
Shipping quality and delivery speed depend on many factors - traffic jams, vehicle condition, warehouses, gas stations, and the weather. All this information must be converted into structured big data, so that you can effectively plan routes and delivery times, considering every nuance.
Retail
Big data companies offer solutions to retail brands to increase online sales by collecting data on customer behavior in online stores. It is then analyzed to help managers offer customers products they need, arrange relevant promotions and discounts, send personalized offers, etc.
When agencies analyze customer preferences, assortment information, shape and color of packages, they optimize the process of product display, which stimulates higher sales.
Finance
With the help of big data solutions, banks can assess their clients' solvency and possible risks associated with granting loans. Financial establishments hire big data companies to improve their customer service. Just like online stores, banks offer their "recommended products," which are mainly their services.
HR
Big data allows collecting information about candidates, determining which resume fits this or that vacancy.
HR specialists often need to analyze employee behavior to optimize their strategies. Google can use analyzed it to determine which employee wants to quit.
Medicine
The pharmaceutical sphere does not actively use the possibilities of big data, however, experts are actively working in this direction, trying to effectively apply its systems.
In the future, scientists see big data as a guardian of public health. Now big data companies apply their technologies to maintain databases of patients in medical institutions. Some features also allow the prediction of certain diseases.
EdTech
In education, big data helps with career guidance by analyzing the abilities of students. Some projects help prevent expulsions by identifying students who are at risk. Thus, big data can also be seen as a guardian of our knowledge.
Marketing
With big data development services, marketing firms will be able to predict product demand. How are these solutions used in large organizations? Thus, Netflix analyzes customer behavior to understand which movies or TV series to recommend for more engagement.
Accurately targeted advertising and reduced cost of customer attraction should also be seen as prospects with big data.
Big Data Types
Experts at big data companies distinguish structured, unstructured, and semi-structured data. Let's take a closer look at each of these types:
Structured data, obviously, has a clear structure and is entered into strictly defined fields, e.g. in Excel. The sources include applications that record certain information;
Unstructured data has no form, no structure, and causes problems in processing and extracting the desired information. It can be stored in the form of structured objects (files or documents);
Semi-structured data is also called "poorly structured." It's a form that does not conform to a strict structure. Semi-structured data is increasingly common on the Internet.
Big Data Usage Benefits
Big data solutions are very important for the online environment. Businesses began to actively use them in 2010, and every year, their popularity only grows.
Big data companies note that this growth is directly related to the increase in the overall amount of information on the Internet and, generally, throughout the world.
Brands use big data mainly due to the following three reasons:
Business process improvement. Firms with competently analyzed big data gain a competitive advantage as they can understand their customers better online and in real life. This enables them to optimize their workflows;
Fraud detection. Businesses use big data solutions to detect abusers who engage in prohibited manipulations, e.g. credit cards, etc.;
Service quality improvement. Brands collect a wide variety of information online to understand customers and improve relationships with them. This is perfectly handled by CRM systems, which can analyze vast amounts of information.
More Insights on Big Data Development Companies
The popularity of big data development companies is increasing along with the growth of the market. This is mainly due to the increased interest of businesses in software systems and technologies that analyze/structure big data and predict various situations. And such companies are making great progress in this direction.
Many well-known companies like Microsoft offer their solutions to customers, which help analyze structured and unstructured big data. In their turn, companies like IBM offer various analytical apps and much more.
What do big data development companies do?
Such companies help transform the information they receive about customers, software, production, hardware, and more into valuable ideas and opportunities. This is done through the development or selection of technological solutions. With the help of big data services, brands can reach the following goals:
Improved agency pricing;
Reduced operating costs;
Increased efficiency, sales, and customer loyalty, etc.
When developing solutions, big data companies consider the needs of each organization separately and, if relevant, offer services to make accurate predictions.
Consulting companies help brands build a roadmap for implementing big data, offer analytical models, or help make informed decisions. You can also find big data analytics companies that offer information analytics as their main service.
Basically, big data development companies offer brands a wide range of services, from consulting to solution development.
What types of services do the best big data development companies provide?
Big data engineering companies help businesses develop highly intensive architectures, as well as solutions that provide data mapping, aggregation of multiple sources, efficient data partitioning, and more. Such companies will offer the following services to their customers:
Consulting. This type of service is available to businesses at almost any big data company. However, it is consulting companies that are specialized in the sphere and ready to share their valuable insights and recommendations. Their managers will answer all your questions about big data technologies, including advanced ETL methods, data pipeline strategies, useful business tools, and more;
Solutions. If brands need to analyze, develop, and implement big data systems, they have two options - turn to freelancers for software development or outsource their projects. The latter is a good idea if you're looking for a full team of experts who will work on everything, from planning to implementation and support of the system;
Analytics. This type of service involves the transformation of large volumes of unstructured information into convenient and clear reports. The companies use data warehouses, special systems for customer reviews, reports, and more. Such solutions help brands use the advantages of big data;
Support. Once a business implements a big data solution, engineering companies are ready to offer their full support so that their creation functions properly. Such support usually includes regular maintenance checks, performance analysis, reports with indicators, and recommendations.
What Do Best Big Data Developers Do?
In a big data development company, the main role goes to a developer engaged in building systems for collecting and processing large amounts of information. Also, the list of responsibilities includes the development of data architecture and the construction of models in accordance with business processes.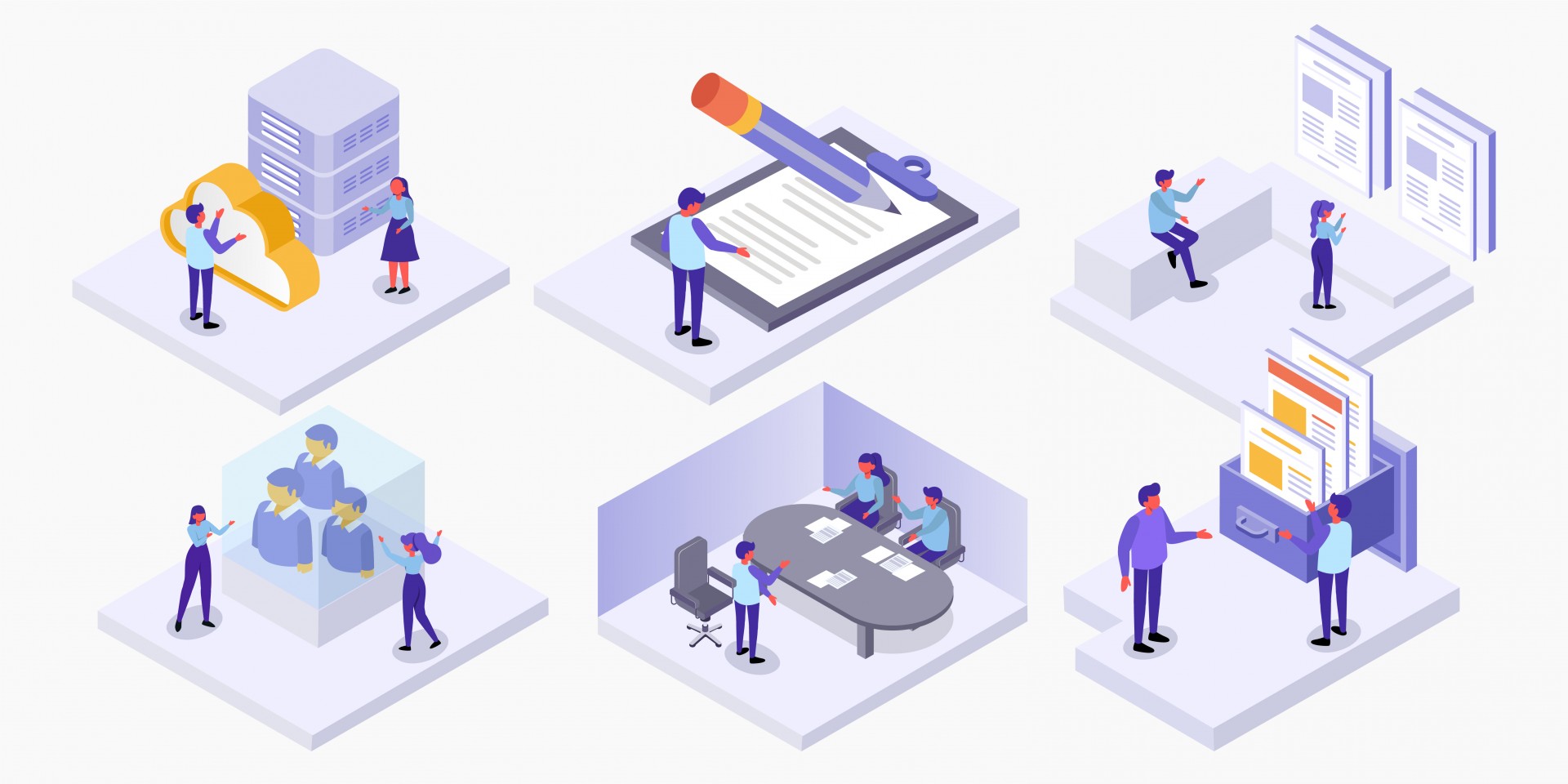 The goal of the developer is to implement the vision, strategy, and principles of big data management, considering the requirements of the business. What does one do to achieve this?
Working for big data companies, the specialist analyzes, designs, and transforms business processes into system functions for information collection. He/she also takes care of design and testing processes, documents tech solutions, monitors the big data model performance, and participates in development planning.
Below are a few frequent tasks that big data software development specialists must handle:
Development of data pipelining processes;
Development of a mechanism for storing and accessing information;
Development of infrastructure;
Data processing, etc.
Big data specialists should have a good understanding of algorithms and data structure, ETL systems, cloud servers, programming languages, and more.
Stages of Big Data Solution Development
The process of big data software development should have a clear structure of actions, each stage deriving from the other. Thus, consistency helps companies form a clear roadmap that will lead to success. Basically, the development process here includes the following 5 steps:
Business environment analysis, where the organization's specialization, performance, and data sources are examined;
Defining goals and objectives is done through brainstorming to form a vision for a solution that can take the business to the next level;
Preparation of big data includes standardization, skip value handling, outlier filtering, and other operations. An analytics team gathers all the information to transform it so that it can be handled by smart tools;
Big data analytics helps firm owners see obstacles and non-obvious details to quickly make improvements;
Implementation. You can choose from cloud or on-premises. If you have any questions, feel free to ask big data consulting companies.
Leading Analytics Сompanies
Perhaps it's time to take a look at the top data analytics companies known around the world. We have highlighted the following 7 organizations:
Google. Not surprisingly, this giant is one of the top big data companies. The leading company continues to expand its capabilities in data analytics;
Sap. The company offers business intelligence support, the main big data tool is HANA (High-Performance Analytic Appliance) for advanced analytics;
Accenture. This agency uses machine learning and artificial intelligence to provide quality data analytics services and solutions;
Tableau. Businesses can use software tools of the big data company to see and understand their information. Connect to almost any database, drag and drop to create visualizations, and share graphics in a single click;
Qlik. This company uses artificial intelligence to transform information into a specific form, offering the only end-to-end real-time data integration and analytics cloud platform. Qlik's main services include business intelligence and data analysis;
Zoho. Specialists of this company offer a data analysis platform, designed for experts and mid-level staff;
Salesforce. The firm has its own big data tools to compare information and gain valuable insights about customers.
World-renowned organizations that specialize in big data also include IBM, Microsoft, HPE, TIBCO, SiSense, Apache, and others.
How do you hire the best big data analytics company?
When brands understand that big data is an important tool that can benefit their agencies, they turn to special companies for help. Choosing the best big data engineering company on the market can be a challenging task for any business owner. Thus, we have a few steps you want to follow to make the choosing process easier:
Define your goals and objectives. This will help experts prepare a quality implementation plan;
Decide on the company region. Keep in mind that services in the U.S. will cost more compared to Europe, India, or Asia;
Carefully study reviews of big data development companies. They can be found on rating and reviews sites where former customers give post their feedback and recommendations;
Ask for a portfolio. The latter will help you decide on the company's experience, identify its strengths and weaknesses;
Make a list of big data companies, so you can interview each of them and determine the best candidate.
The Future of Big Data
There's little doubt that big data is growing and migrating to the cloud. Most experts tend to believe that the volume of information will increase exponentially every year.
What are their reasons? Why will big data grow?
First of all, if we take a look at the statistics of Internet users, their number is growing every day. People around the world are increasingly moving online - remote working and correspondence, website events, online stores, etc. - with the ongoing pandemic, even more businesses will use big data systems.
Every year, more devices and big-data-collecting systems are connected to the Internet.
Apart from all that, Machine learning (ML) hugely affects our future. Experts believe that the ability of computers to learn from data will improve dramatically. Machines will understand human emotions, drive cars, and more, all thanks to big data.
According to independent experts from the best analytics companies, the demand for big data specialists will also increase.
Conclusion
Information changes the world dramatically, and life changes the rules of the game - people and brands learn how to use big data in all areas, industries, and segments.
If a business knows how to analyze important sales, customers, and other business-related information, the company will competently optimize work processes and make personalized offers to customers online.
Proper use of big data will stimulate sales, increase productivity, and allow brands predict various situations.
FAQ
Which software tools are the best for big data?
The following software tools can be called the best on the market:
Hadoop;
HPCC;
Apache Storm;
Apache Spark;
MongoDB;
R Programming Environment;
Neo4j;
Quoble;
CouchDB;
Statwing.
What are the 3 types of big data?
There are three types:
Structured big data is information organized by size and parameters, which makes it the easiest to work with;
Unstructured big data is all unstructured information that is not grouped or sorted;
Poorly structured big data is on the border between the 1st and 2nd types.
What database is used in big data?
There are a huge number of different data types stored in databases. Mostly non-relational NoSQL databases are used.
What is the best database for big data?
Azure Cosmos DB, DynamoDB, Amazon Keyspaces, Amazon DocumentDB are the leaders among databases.
Which big data technology is in demand?
Technologies like Apache Hadoop, Apache Spark, MongoDB, Cassandra, and others are actively used in the modern tech world. For data visualization, brands often use QlikView, Qlik Sense, Tableau.